Using a Modular Approach With tcDocs PLUS 10 Mini-Checklist Ideas To Add To Your Templates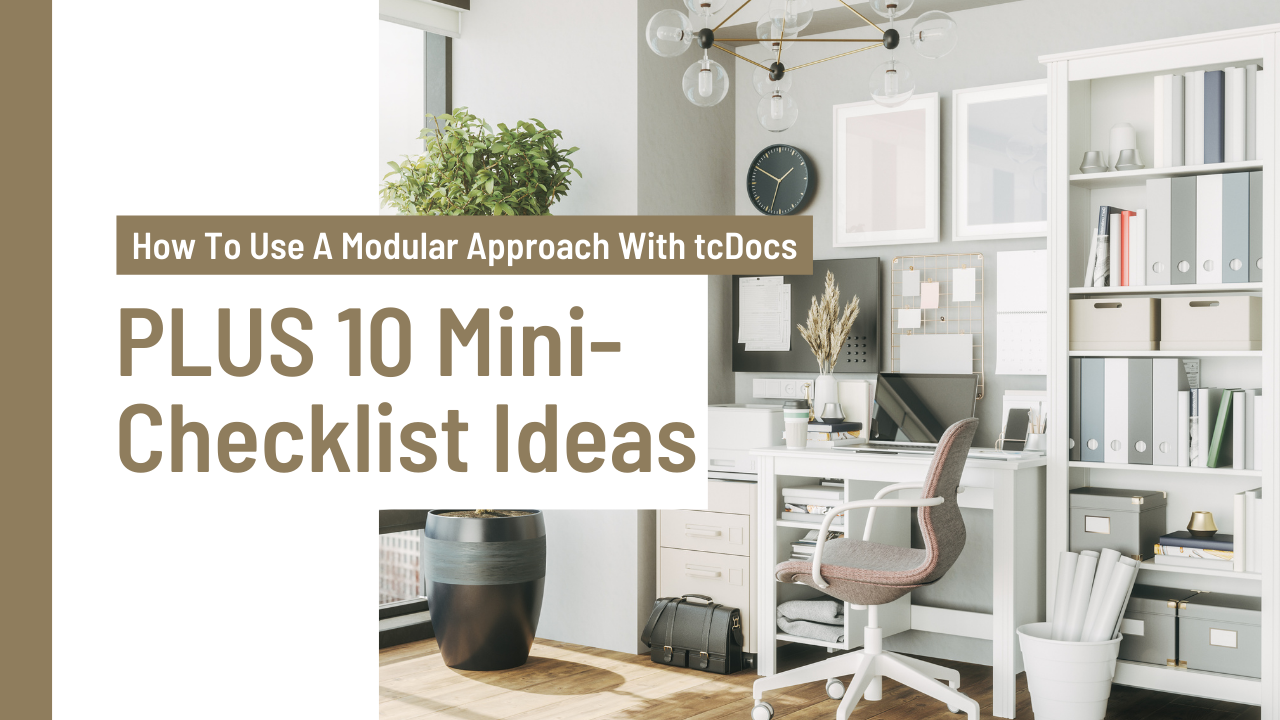 Create a very basic Checklist template that includes the tasks needed for all transactions or listings. Then make mini checklists for different scenarios – such as contingencies, extensions, condos, or customized tasks to be used for specific realtors. Then, when you start a transaction, you can import the relevant checklists. Or, you can import a checklist as the need arises – such as an extension.
Why use a modular approach?
If you include tasks that aren't always needed– for example, contingencies – you will find yourself needing to delete tasks that aren't relevant.
There are scenarios related to the type of property (such as a condo) or the circumstances (such as an estate sale) that have critical steps. By having these tasks already documented in a mini checklist, you'll be ready to go when the need arises!
If a need arises while the transaction is underway (such as an extension), then you have a checklist ready to go. When you are managing multiple transactions, it's super helpful to have every task listed so as not to miss an important step.
Mini checklists are also an excellent way to customize your workflow for the different agents you represent. Some agents like to be sent reminders. Other agents have special correspondence they want sent out on their behalf. By creating a mini checklist that you import when working with that agent, you can effortlessly cater to all your client's needs.
Here are 10 Mini Checklist Ideas to add to your toolkit!
Inspection Contingency
Could include: Scheduling an inspection, inspection reminders, inspection follow-ups and repair requests
Mortgage Contingency
Could include: Correspondence with lender, the other agent, the title officer and the buyer or seller
Property with Septic
Could include: Creating a septic addendum, scheduling a septic inspection, sharing passing septic system certificate
Condominium Sale
Could include: Correspondence with HOA, collecting and sharing condo docs, obtaining relevant certificates
Property with a Swimming Pool
Could include: Creating a pool addendum, scheduling a pool inspection
Extension to Contingency
Could include: Creating and distributing extension for signatures
Extension to Closing
Could include: Creating and distributing extension for signatures
Price Reduction/Closing Cost Credit Addendum
Could include: Creating and distributing extension for signatures
Estate Sale
Could include: Correspondence to Buyer or Seller outlining the process in your state and checking in on the status of the petition or license to sell, keeping parties informed
Agent Specific
Could included: Reminders to agent, "extra value" communication to their clients such as preferred vendors, recommendations, tips, process explanations, and sending gifts or thank you notes
For step-by-step instructions on building checklists, click here to see our video on YouTube.
If you would like to find out more then please sign up for your Free 14-Day Trial – No Credit Card required!